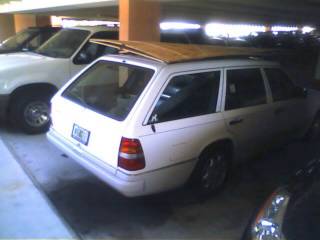 The world of Southwest Florida is going crazy with preparation for Hurricane Charley as evidenced by this Mercedes wagon with plywood on the roof parked in our office parking garage.
I stopped on my way into the office to fill my spare propane tank only to find a line of 15 people ahead of me. When I left the line had swelled to 20! Everyone is getting ready for Charley who will be a Cat 2 hurricane when his eye passes 15 miles off our coast... about 16 miles from my house. I'm removing the furniture from the liani and filling the bathtub with water (to flush the toilets) and I got plenty of bottled drinking water. We are closing the office today at 2 pm and all day tomorrow.
I just found out that there is a manatory evacuation from Sanibell Island and Marco Island..... kewl.
Is it time for a party?